LOGISTIC PEOPLE (Deutschland) GmbH
Mr. Olaf Sobotzke
(Branch Manager)
Hammerbrookstrasse 73
20097 Hamburg
T    +49 (0) 40. 23 85 55 8-25
F    +49 (0) 40. 23 85 55 8-15
E     hamburg@logistic-people.de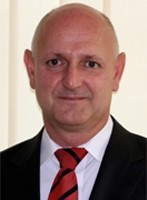 LOGISTIC PEOPLE has had a presence in northern Germany since early 2005. Beyond the Hamburg we have extensive knowledge in domestic and international logistics. For here especially the strong growing, logistics-oriented region requires more and more specialists and management staff.
We apply our entire knowledge of the market and expertise for you, to ensure you will find the right employee for your business development. You benefit from all of our staffing consultants being from the logistics industry. Our team offers extensive professional experience in air- and sea freight, ground transportation, and shipping.
In the course we speak both the operators' as well as the applicants' language. LOGISTIC PEOPLE knows what's key in logistics.
Save time and resources looking for qualified applicants. We will find the right specialists for you – through direct staffing, interim management or risk-free employee assignment.
Our goal is always to find the best solution for your staffing matters. Gauge us.