LOGISTIC PEOPLE (Deutschland) GmbH
Frau Claudia Lersch
Consultant
Rolandstraße 61
D-50677 Köln
T     +49 (0) 221. 640 008 03-0
F     +49 (0) 221. 640 008 03-9
E      koeln-bonn@logistic-people.de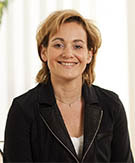 The economic region Cologne-Bonn represents one of Europe's key traffic nodes with a tight network of road-, rail-, water- and air traffic connections, with notable manufacturing companies ensuring continuous growth. The sum of these factors bring a high demand for all types of logistics service providers.
LOGISTIC PEOPLE has therefore also been present in the Cologne-Bonn region as personnel consultants for commercial specialists and management staff since May 2012 and will gladly actively and proficiently handle your search for personnel. Responsibilities also extend to the Aachen and Koblenz region.
Years of logistics experience in various leading positions in forwarding, the shipping business and logistics consulting, combined with experience in all transport carriers ensure our local logistics specialist is familiar with all the job profiles in all areas of logistics.
In the course we speak both the operators' as well as the applicants' language and pair up the right candidates. From employee all the way to executives. All applicants are assessed in a one-on-one interview with consideration to our customers' needs and their company culture. For this we establish a custom job profile to find the ideal staff. Staffing the vacancy optimally for all parties is our ultimate ambition. Continuous and trusting exchange with clients and applicants is the top priority. This raises the quality of our successful, cooperative collaboration. We offer applicants and companies the advantage of neutral, individual and personal support and consultancy.
Our service ranges from personnel consultancy to obtaining and assigning staff, all the way to personnel development. And our LOGISTIC PEOPLE ACADAMY further offers a wide range of training and continuing education measures – for candidates as well as your employees.
Trust in us and gauge us by our joint success!